url: id=Peter_Luining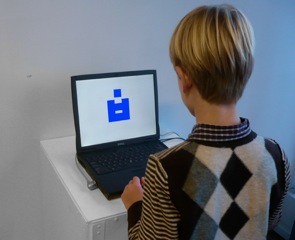 Peter Luining (1961, Hoogkerk) is een internet kunstenaar van het heerlijk ontregelende soort. Hij maakt gebruik van de combinatie van bewegend beeld en geluid, die door de interactie van een gebruiker gestuurd wordt. Check het imposante organogram op de
site
van Luining; het geeft je een idee van het veelomvattende werk en onderzoek dat hem telkens weer op nieuwe paden brengt. Van de porno-site pastiche
http://www.prettycensored.com
tot sites opgemaakt in louter html-kleuren als
http://www.ff00ff.com
en
http://www.00ffff.com
. Zijn werk geeft je soms dat kenmerkende gevoel van paniek als een site zich tegen je keert als bezoeker of aan de haal gaat met je beeldscherm. Klik bijvoorbeeld eens op
http://ctrlaltdel.org/rect_z1/
,
http://www.lfoundation.org/scratch/
of
http://splash.ctrlaltdel.org/attacki.html
. Geen zorgen – er raakt niets beschadigd.
Ook was Luining een periode actief als domeinnaam handelaar. Zijn onderzoek naar de destijds ook in de kunstwereld zeer lucratieve handel in domeinnamen mondde uit in een presentatie/performance op Art Frankfurt, meer dan 200 domeinen werden door Luining te koop aangeboden. Opsteker voor Marlene Dumas: www.marlenedumas.com is nog steeds beschikbaar.
De laatste tijd wordt het werk van Luining meer minimalistisch en geometrisch. Het speelse is gebleven evenals het streven naar een organische browser. Kijk en klik naar flash filmpjes met geluid: http://o0.org/ of http://ctrlaltdel.org/nitter/. Sol Lewitt zou er lyrisch van raken! Op http://www.ctrlaltdel.org/ vind je een hele reeks speelse werken. Luining vertelt zelf:
"Daarom heb ik mijn site ook heel snel Ctrl/Alt/Del genoemd. Dat zijn de toetsen op een pc die je indrukt als je computer vastloopt. Waar ik in die tijd op uit was, was het 'resetten' van de manier waarop je surft. Je klikt op een button en ergebeurt iets anders dan je verwacht. Elke pagina kan weer anders zijn. Ctrl/Alt/Del is altijd een site gebleven die constant verandert. Dingen zijn niet makkelijk terug te vinden."
De hele tekst van het interview met Metropolis M vindt je hier.
12.10.2010
Peter Luining
is participating in
Challenging the Myth of the Painter
at
Outline Amsterdam
. Other particpating artists: Niels Broszat, Aquil Copier, Sander van Deurzen, Iris Frerichs, Gijs Frieling, Menso Groeneveld, Iva Gueorguieva, Paul Haworth, Michiel Hogenboom, Alex Jacobs, Ellemieke Schoenmaker (v&b), Stefan Kasper, Aukje Koks, Mischa Rakier, Simon Schrikker, Verfhond, Jeroen Vrijsen, Reinoud van Vught, Marjolijn de Wit, Michiel van der Zanden.
Opening: 24.10.2010, 16:00
Open: 24.10.2010 — 20.11.2010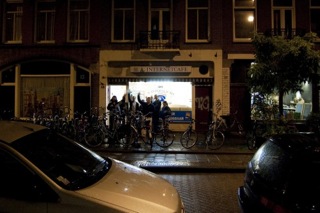 16.09.2010
Peter Luining
is participating in
Speed Show 3, Amsterdam
. Other participating artistst:
Constant Dullaart
,
Evan Roth
,
Guthrie Lonergan
,
Jan Robert Leegte
,
JODI
,
Jon Rafman
,
Rafaël Rozendaal
,
Timur Si-Qin
,
UBERMORGEN.COM
,
James Powderly
& curated by
Aram Bartholl
. Opening: 16.09.2010, 19:00 — 22:00
Speed Show manifest by Aram Bartholl 2010
Hit an Internet-cafe, rent all computers they have and run a show on them for one night. All art works of the participating artists need to be on-line (not necessarily public) and are shown in a typical browser with standard plug-ins. Performance and life pieces may also use pre-installed communication programs (instant messaging, VOIP, video chat etc). Custom software (except browser add-ons) or off-line files are not permitted. Any creative physical modification to Internet cafe itself is not allowed. The show is public and takes place during normal opening hours of the Internet cafe/shop. All visitors are welcome to join the opening, enjoy the art (and to check their email.)
On my way to the Netherlands last Wednesday (for the 'Shadow Dance' group show in Amersfoort) I decided in the last minute to set up a SPEED SHOW on short notice in Amsterdam for the following day. At the end of the 6h train ride I had all artist emailed and confirmed, speed curated!
Constant Dullaart picked a great Internet-shop remotely via Google Streetview (oh man, we need that in DE finally too!), Peter Luining checked it out and fetched me a phone number. Thx for support! I called the guy the night before and all was set. Since the shop doesn't sell anything else than voice and internet we had to bring our own drinks. :-) (which he was cool with. Is that possible in NYC?!?)
Although the show was anounnced only one night in advance we had a fine crowd of visitors and lot's of rain (which made everyone look at the art ;-). Thx to all for showing up on short notice! Thx to the artists! Thx to the 'A.Internetcafe'-team!
Aram Bartholl 2010
Participants so far: Elizabeth de Vaal, Ellen Rodenberg, Maarten Schepers, Jeroen Bosch, Hans Ensink op Kemna, Clary Stolte, Peter Luining, Jan van der Ploeg, Erik-Jan Ligtvoet, Stefanie Scholte, Arianne Olthaar, Roman Wolgin, Kees Koomen, Maarten Janssen, Nelleke Scharroo, Susanne Bruynzeel, Ton Schuttelaar, Loes Aarts, Machiel van Soest, Matthew Deleget, Mark Brogan, Leona Dodig, Niels Post, Rob Knijn, Quentin Armand, Jack Segbars, Yvonne Lacet, Mark de Weijer, Yvo van der Vat, Thom Vink, Thomas Bakker, Peter Cleutjens, Isa Tenhaeff, Harold de Bree, Carla Klein, Roeland Langendoen, Dit is dit, Marike Schuurman, Barney de Krijger, GJ de Rook, Johan Gustavsson, Ibrahim R. Ineke, Eelco Brand.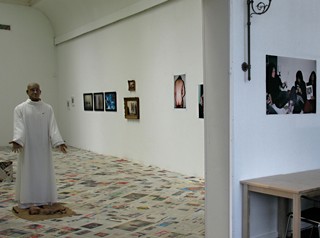 11.06.2010
Harmen de Hoop
and
Peter Luining
are participating in
Anti-Beeld
at
Arti et Amicitiae
, Amsterdam. Other artists: Jonas Staal, Coralie Vogelaar, Tinkebell, Tjebbe Beekman, Marc Bijl, Sooreh Hera, Florian Göttke, Paul Kooiker, Martijn Sandberg, Aram Tanis, Mehdi-Georges Lahlou, David Cerny, Mieke Gerritzen, Frans Smeets.
Opening: 11.06.2010, 20:00
Open: 12.06.2010 — 11.07.2010
Curator: Arjen Lancel en Anne Bruggenkamp
Antibeeld geeft een inzicht in de hedendaagse strijd om het beeld. De tentoonstelling presenteert kunstenaars die regelmatig de confrontatie met het publiek zoeken, van Jonas Staal tot Sooreh Hera.Sadam Hoessein op sterk water. Dit controversiële beeld van de Tsjechische kunstenaar David Cerny is een onderdeel van de tentoonstelling Anti-Beeld. Anti-Beeld verontrust, fascineert, stoot af en genereert steevast discussie. Door de globalisering zullen beelden en visies op beelden vaker tot controverses leiden terwijl er meer beeld geproduceerd wordt en het beeld ook een steeds korter leven heeft. Dit roept vragen op over de betekenis en functie van kunst en het beeld in het algemeen. De vraag naar wat de kunstenaar nog kan toevoegen aan deze met beeld overladen wereld is daardoor bijzonder actueel.Anti-Beeld is een tentoonstelling over een beeldstrategie waarbij de rol van kunst en kunstenaar in de samenleving op scherp gezet wordt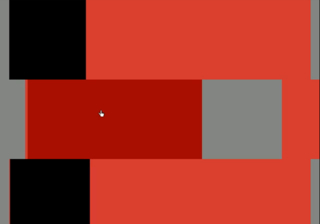 02.05.2010
FOO_BAR!
Performances and presentations by
Peter Luining
(NL), Duracell (F/UK) Perrine en Morceaux (F), Philip Lammer(AT) and moddr_ (NL) at
Worm
, Rotterdam.
07.05.2010, 21:00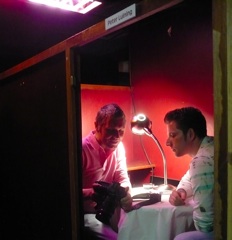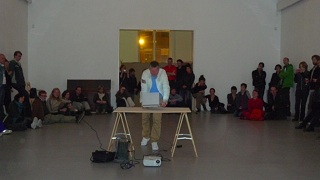 14.04.2010
In the evidence of experience
, 7 evenings of live art at
Arti et amicitiae
, Rokin 112, Amsterdam. Opening: 20.04.2008, 20.00 with the performance
Site specific seminar # 2
by
Matthijs Bosman
. Other participating artists: Veridiana Zurita, Mariëlle Videler, Kaisu Koski, Electriciteit Is Onze Hobby,
Peter Luining
, Nina Yuen, Bram Vreeswijk, Jo Benink, Sara van der Zande, Doron Hirsch, Anno Dijkstra, Isabelle Schiltz, AETHER 9 Art Collaborative, Mayumi Nakazaki & Catherina Pecchioli.
Open: 20.04.2010 – 29.04.2010
23.02.2010
Peter Luining
is participating in
MIJN Publieke Ruimte, "...to find emptiness in cityscapes"
. A group show at
Gemak
Den Haag. Other participating artists: Willem Besselink, Justin Bennett, Roderik Henderson, Bart Lodewijks, Monica Nouwens, Els Opsomer & Marike Schuurman.
Open: 23.01 — 14.032010